JConcepts Scale and Street Eliminator backpack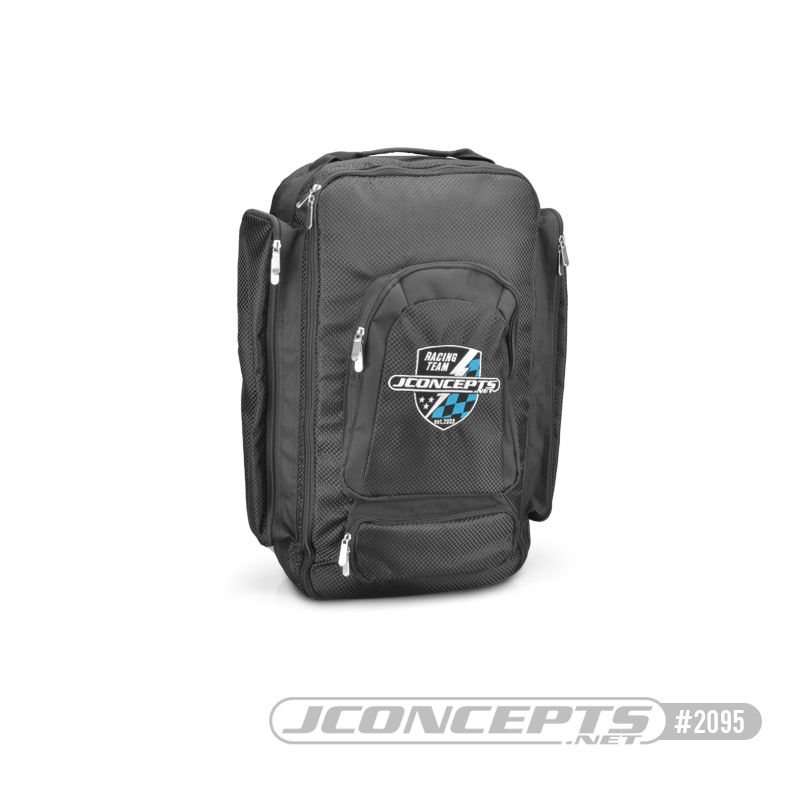 Sales price without tax
$99.99
Description
JConcepts introduces a backpack specifically designed to carry a complete Scale truck, Short Course or Street Eliminator with room to spare.
It's not just for school anymore, it's for racing , bashing, and getting to an event on time. JConcepts introduces the backpack; a clever way to handle and carry a wide range of vehicles with accessories to and from events or favorite bashing area. Typically, when a driver packs for a day of fun, the racing bags are full of spares, chargers, electrical and miscellaneous other items. The JConcepts backpack is the perfect way to travel with a vehicle when space is limited or quick access is critical. If you want to pack light for a quick few runs down the street or for a complete day at the track, or on the trail, the backpack is the perfect choice.
The new Finish Line design features outer woven fabric giving it a very luxurious look at first glance. Traditional front panel pockets have room for just about anything from spare parts to electrical and tools. The full-length side pockets are purpose built and can hold mounted tires on each side of the bag giving the racer multiple tire options in one contained unit. In addition, the inside of the bag has a composite hard bottom which allows the backpack to support its own weight during storage and packing.
A carrying handle on top and conventional back straps with padded area make trips much more comfortable. Take the backpack on an airline flight as a travel carry-on item or in the vehicle as quick to-go item. To add additional flare, the JConcepts Finish Line logo is boastfully embroidered on the front to showcase this exclusive looking design. The JConcepts backpack does it all, quickly and with style.
Note - Backpack and compartments are not intended as Lipo safety material. Always follow manufacturers recommendations and specifications while storing potentially hazardous equipment. Miscellaneous parts and accessories mentioned are not included. Inside dimension of the backpack measures - 22"L x 13"W
Features:
Fits, 1/10th Scale trucks and buggies, Short Course, Street Eliminator and 1/8th buggies
Compact size, great for storing tools and tires
Traditional front panel pockets for misc. items
Luxurious Woven fabric for high-end looks
Rugged extra tough material, handle and straps
Embroidered JConcepts logo
Heavy-duty stitching throughout
Composite, hard bottom