REDCAT EARTHQUAKE 3.5 -Red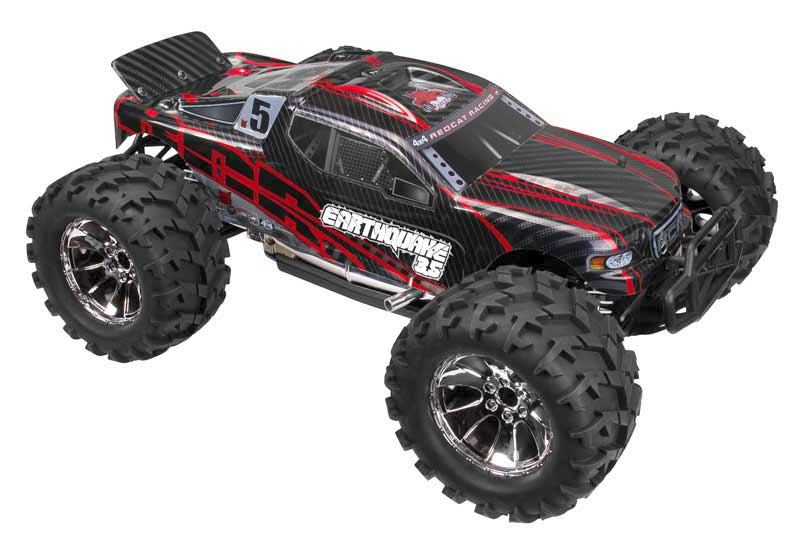 Sales price without tax
$459.99
out of stock
Description
PRODUCT FEATURES
The Redcat Racing 1/8 scale Earthquake 3.5 delivers BIG BLOCK power at a little block price. Part of the Redcat UltraLite Series, the Earthquake 3.5 is ready to run and ready to shake up the competition. The Earthquake 3.5 is an incredibly fun vehicle to drive, in fact, once you feel the rumble of its big block power plant, you might just leave your other RCs hiding under the work bench.
A 3.5cc .21 2-stroke nitro engine provides earth shaking power, and thanks to its 2-speed transmission, that power can be thrown down in 1st gear for dirt flinging, wheelie popping, big block acceleration, while still obtaining blistering 2nd gear top speeds. A specially designed composite disc brake system stops this monster with authority.
A bashers dream, the Earthquake 3.5 4WD monster truck uses 2 sealed differentials, tunable centrifugal clutch, adjustable brake linkage, adjustable ride height, tunable suspension, oil filled tunable shocks, multiple shock locations, adjustable toe angle, adjustable camber, easy to adjust 2-speed automatic transmission, and easily tuned nitro engine.
Watch the earth crumble beneath the Earthquake's devastating monster truck tires. A force to be reckoned with, the Earthquake 3.5 is ready to run, after following proper break in procedures, and includes a 2.4GHz radio for solid control.
Get your Earthquake 3.5 4WD nitro powered monster truck today!
• Powerful 2-stroke nitro engine, Pull start, Large capacity fuel tank, Tuned exhaust pipe, 3.0mm 6061 Aluminum chassis, Oil filled big bore shocks, Front and rear gear differentials, Ball bearings throughout.
• Easily tuned engine, Tunable centrifugal clutch, Adjustable brake linkage, Adjustable ride height, Tunable suspension, Multiple shock locations, Adjustable toe angle, Adjustable camber.
• Aggressive monster truck tires, Shaft driven durability, Enclosed battery box, Chrome tuned pipe.
• 3.5cc Nitro Engine, High torque throttle/brake servo, High torque steering servo, 2.4GHz radio system.
• Assembled & Almost Ready to Run - Requires Nitro Fuel, Glow Igniter, After Run Oil, AA Batteries for Transmitter & Receiver